Cefic Digital Dialogue | Defining Europe's 'essential' chemicals for society: what is the goal and what is at stake?
---
Digital Dialogues are open stakeholder discussions, designed to provide an exchange of perspectives, activities and initiatives between the European chemical industry and its broader community, with the aim of contributing to the European policy agenda.
Among the actions announced in the Chemicals Strategy for Sustainability published last year, Europe aims to phase out the most harmful chemicals for non-essential societal use. The next challenge is now to translate this political objective into a practical approach without overturning Europe's, already world-class, chemicals legislation.
The European chemicals industry shares the same goals as the Commission; to achieve the European Green Deal, while setting up a system that maintains a high level of protection for people and environment, and supports the industry's investments into safer and more sustainable European-produced substances.
Key questions include:
what is the final goal when looking at 'essential societal use'?
how can we sufficiently involve society in the process?
how we can reach a common understanding, leading to better informed decision making?
This dialogue brings together the European Commission, a leading Member of the European Parliament, academia, and civil society (TBC) invited to reflect on these questions, and also:
How could the concept of defining 'essential uses' be applied in practice?
What shortcomings of the current system would it fix?
Where does regulation start and stop in governing consumer choice?
This event will also highlight academic work on the topic of essential uses, recently published by Professor Geert van Calster (KU Leuven) and Kathleen Garnett (Wageningen University). Their research into essential use has recently been funded by the Swedish Chemical Agency as well as Cefic and the Research Council at KU Leuven.
Join us to help define the pathway forward for Europe's chemicals legislation, while striving to achieve the European Green Deal objectives.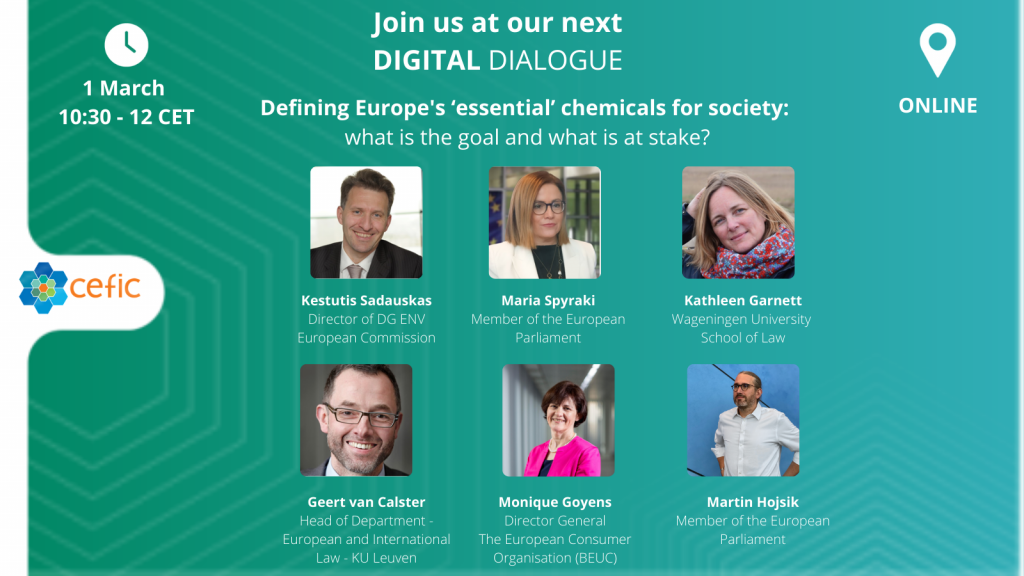 Contact
If you have any questions please contact Heather Kiggins .