Giving new life to old mattresses
---
Ever consider what happens to your mattress once you no longer have use for it? It has been estimated that in Europe, 30 million mattresses are discarded each year, which is equivalent to 678 times the height of Mount Everest. This is because almost 90% of all mattresses produced in the EU contain between 2 and 15 kg of hard-to-recycle polyurethane foam each.
Rather than seeing this societal challenge as a stumbling block, the chemical industry has seized the massive circular economy opportunity presented to them.
Dow Polyurethanes has made significant strides in this direction through its mattress recycling programme, where it has begun collaborating with industry partners to recycle end-of-life mattresses back into raw material (polyol) for producing flexible and rigid foam. In short, it can even be used to create a brand new mattress!
After signing a cooperation agreement with German-based installations provider H&S Anlagentechnik, Dow has recently announced plans to implement an industrial scale plant at the site of Orrion Chemicals Orgaform in Semoy, France to convert end-of-life mattresses back to raw materials. Eco-mobilier, a French mattress and furniture organisation will employ its used mattress collection and dismantling capabilities to supply post-consumer polyurethane foam to Dow's new site. Rather than using 100% new polyols in conventional flexible foam, it is now possible to replace up to 30% of the virgin polyol with those produced from old mattresses, without the foam losing out on quality.
It is worth noting that both Dow`s mattress recycling project and polyols received Sustainability awards in 2019 from the Business Intelligence Group.
Associated SDG targets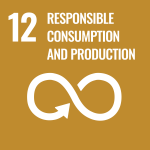 © Reserved copyrights UN SDGs