PolyStyreneLoop cooperative offers an efficient recycling system to recover old Polystyrene foam
Dissolution: extracting plastic, ICL-IP
---
Giving new life to insulation waste material
Polystyrene (PS) foam is a widely used insulation material in the construction sector. In Europe, expanded and extruded polystyrene (EPS and XPS) has been applied since the 1960s. To meet fire safety regulations, a flame retardant is added to the PS-foam. From the 1980s onwards the most common flame retardant used in insulation, textiles, and electronics was hexabromocyclododecane (HBCD).
In 2013, HBCD was classified as persistent organic pollutant (POP) under the UN Stockholm Convention and it is in the list as a restricted chemical. The residual levels of HBCD in products and waste are now regulated. The PolyStyreneLoop cooperative, currently gathering over 70 members from the entire PS foam value chain across Europe, was founded in November 2017 with the aim to contribute to the circular economy by developing and offering a recycling solution for PS-foam demolition waste containing HBCD. Together with companies from all over Europe, an efficient recycling system has been created which can give end-of-life Polystyrene foam a new life by removing HBCD from the demolition waste.
The PolyStyreneLoop initative explained
The Polystyreneloop demoplant was inaugurated in Terneuzen, The Netherlands, on June 16th 2021 adjacent to the ICL manufacturing plant. The plant will be able to convert over 3300 metric tonnes of Polystyrene foam waste per year, offering valuable streams of Polystyrene polymer and elemental bromine. This entails a waste treatment process, which reduces carbon emissions by approximately 50% compared to the current solution involving incineration with energy recovery.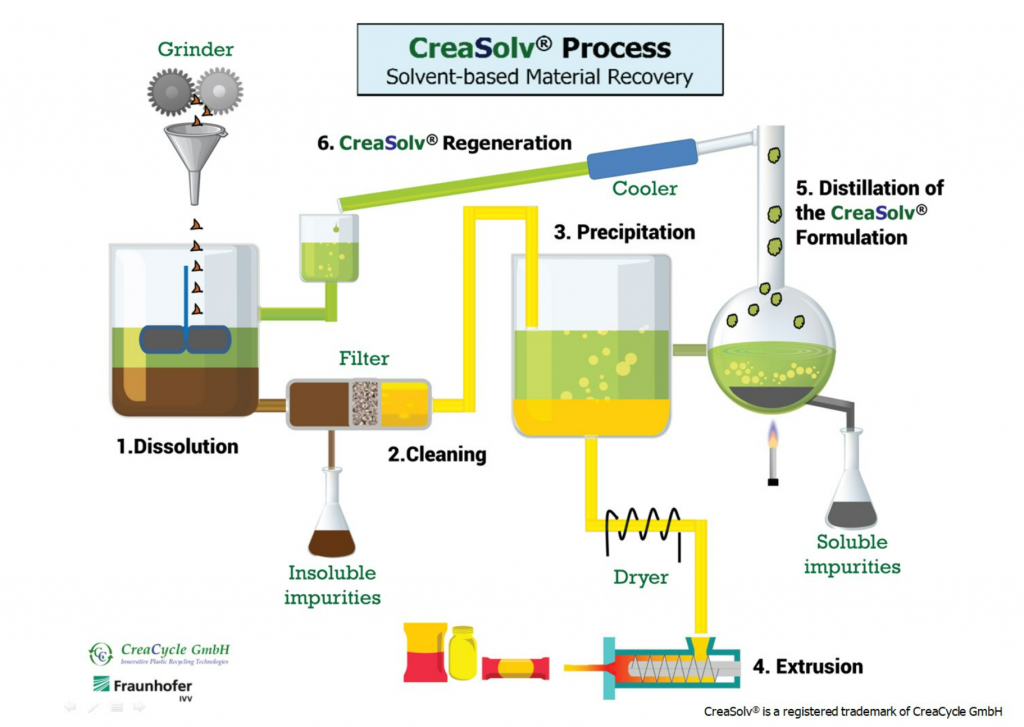 EPS and XPS are used as insulation material in buildings, ensuring climate control and energy savings. PS-foam waste is generated during building demolitions or renovations. This waste is collected separately at the demolition site and transferred to a collection point (HUB) for further treatment. The waste is compacted to optimise storage and the transportation to the PolyStyrene Loop plant.
A physical treatment process can now preserve the high-quality PS, to be used as raw material for new foams and safely remove the flame retardant HBCD and other additives from the PS foam.
PolyStyreneLoop is based on the CreaSolv® Technology: a Solvent-based Purification process (developed by Fraunhofer IVV in cooperation with CreaCycle GmbH), allowing the separation of polystyrene from legislated HBCD and other additives. HBCD is further treated in the Bromine Recovery Unit from ICL. This process recovers the polystyrene, which can be used in new construction products and the bromine in the flame retardants.
The solvent is distilled and re-used in a closed loop. The HBCD and remaining soluble additives remain
in the sludge and are treated in the Bromine Recovery Unit (BRU). This facility ensures the safe recovery of the valuable bromine component. The recovered Bromine is re-used for producing new brominated polymeric flame retardants, which are a safe alternative to HBCD. These new flame retardents do not have any POP (Persistent Organic Pollutant)/PBT (Persistent, bioaccumulative, and toxic) properties.
The recycling product was tested by Sunpor Kunststoff GmbH as feedstock for making Lambdapor insulation EPS beads and was found to have identical properties as when made with prime PS material.
Learn more about the CreaSolv® Process
Additional information to download
Results of a Life Cycle Assessment for End of Life Treatment of Expandable Polystyrene (EPS) from External Thermal Insulation Composite Systems (ETICS) click here.
The Life Cycle Assessment of ETICS End of Life Treatment of Expandable Polystyrene click here.
Circular Economy for PS-foam demolition waste containing HBCD available today, click here.