Circular Economy
---
Circular Economy aims to reduce the pressure on natural resources, design-out waste and restore and regenerated ecosystems thereby contributing to achieve several of the Sustainable Development Goals, particularly SDG 8 'Decent work and economic growth', SDG 9 'Industry, innovation and infrastructure' and SDG 12 'Responsible consumption and production'. The chemical industry is a key enabler of the circular economy by enabling a better use of resources and materials, the use of alternative circular feedstock, and by increasing the circularity of processes in the value chain throughout the full life cycle of products. Circular Economy is also an essential element in the transition to a climate neutral low-carbon economy.
Increase share of alternative feedstock
One of the key pathways to a successful transition towards a climate-neutral circular economy is the use of alternative and more circular feedstocks, such as (plastic) waste, captured CO2, and bio-based materials.
The chemical industry is looking into boosting production products derived from alternative feedstock, keeping in mind that it is equally important to assess these alternatives on their carbon and environment footprint and without compromising performance and functionality of its products compared to existing alternatives which are currently mostly fossil derived.
So far data is available only for the use of biobased feedstock as an alternative. Indicators for other alternative feedstocks will be further developed.
Share of biobased chemicals
Since 2008, the turnover of biobased chemicals has increased to up to 35,700 million Euros by 2017. As such, the share of biobased chemicals turnover slowly increased from 6.0% to 7.3%. Biobased chemicals are an indicator for the use of alternative feedstocks. However, when using biobased materials as feedstock, it is important to keep in mind that that they should not be in competition with other types of land use, such as food supply, biodiversity and use as carbon sinks.
Turnover and share of biobased chemicals in the EU27 chemical industry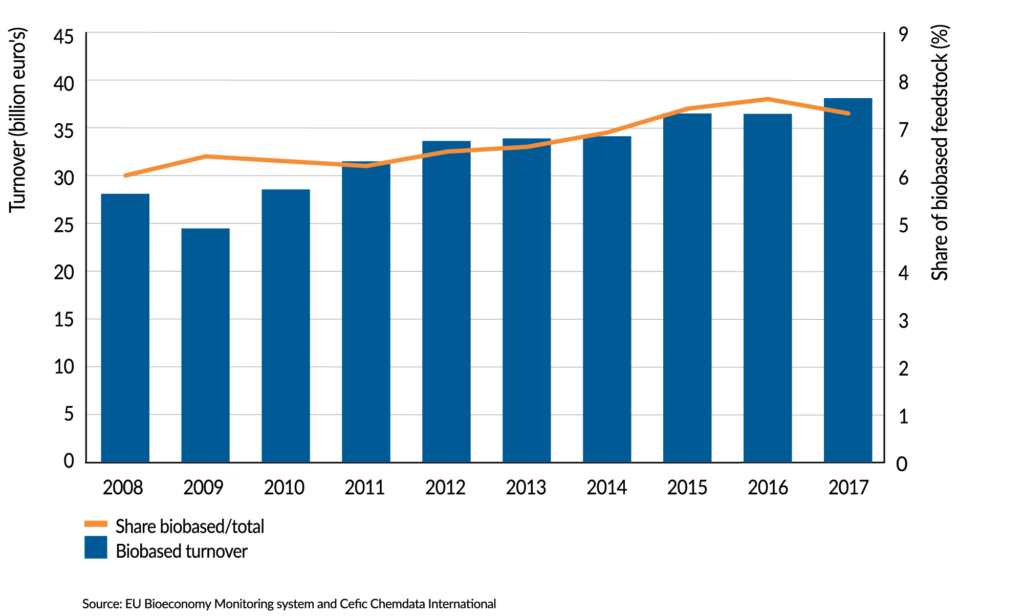 Key levers for industry activity & company examples
1. Accelerate the commercialisation of sustainable solutions in a circular bioeconomy
2. Create new business models to integrate primary and market sectors as strategic partners
3. Establish climate-neutral operations to mitigate climate change
4. Foster new purchasing and consumption patterns for a circular bio-society
5. Using residues and waste as feedstock
Contribution to the EU Green Deal
The European Commission adopted the new Circular economy action plan (CEAP) in March 2020 and is Europe's new agenda for sustainable growth. The new action plan announces initiatives along the entire life cycle of products. It targets how products are designed, promotes circular economy processes, encourages sustainable consumption, and aims to ensure that waste is prevented, and that resources used are kept in the EU economy as long as possible.
Associated SDG targets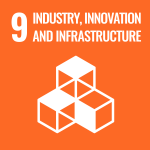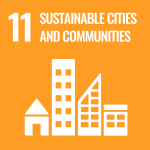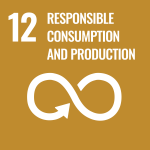 © Reserved copyrights UN SDGs
Check out the other "SDI indicators"