Molecule Managers: Cefic presents ambitious "European way" for the EU chemical industry
---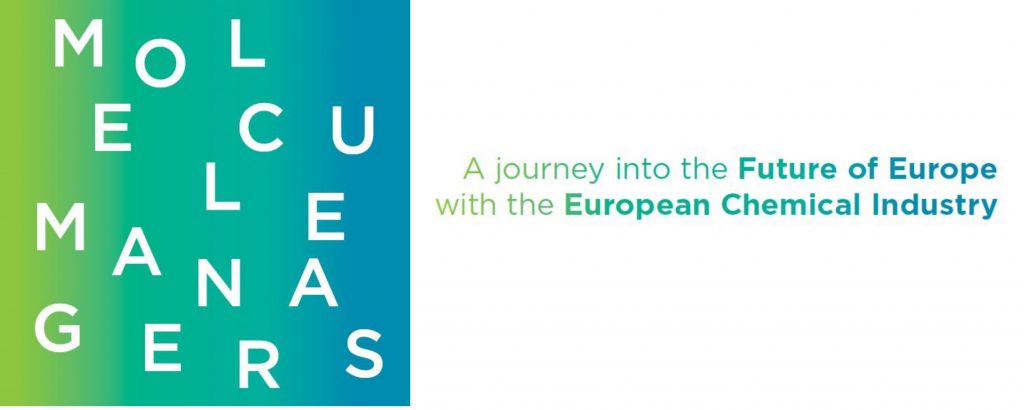 25 June 2019, Brussels.  – In releasing its Mid-Century Vision report titled 'Molecule Managers', the European Chemical Industry Council (Cefic) launches a dialogue about the future of the chemical industry and its role in building a prosperous and more sustainable Europe by 2050.
The next ten years will be decisive for the future of the EU chemical industry. During this time, it will need to develop its own competitive place in the global economy while adapting to new challenges. These challenges include a decline in globalisation and free trade, the EU goal of a climate neutral economy, a talent crunch and increasing transparency of supply chains due to digitalisation and blockchain.
Daniele Ferrari, Cefic President said: "We will lead this transition by offering European sustainable solutions to global challenges. The "European way" means innovating towards circular models and being at the forefront of new technologies. We invite all parties to engage in the discussion with us to define this European way."
Based on a thorough analysis and dialogue, we conclude the chemical industry can play a key role in transforming waste into valuable feedstock or new materials and can further integrate with other industrial sectors. As European society moves towards greater circularity, the importance of this role will only grow. Chemical recycling is one of the technologies that will make this possible.
A more extensive use of artificial intelligence and blockchain technologies will make chemicals production and chemical risk assessment more efficient and transparent. It will also help better track substances of concern in supply chains and further improve the safety of chemicals in the EU. Applying all these technologies will require a workforce with a completely different skills set.
The report is not a forecast but rather a foresight and an invitation to all stakeholders to enter into dialogue with us. Based on these discussions and feedback, Cefic will be regularly updating this Vision.  
Note to editors:
The findings are the result of a rigorous quantitative and qualitative consultation process that is the broadest ever undertaken by the European chemical industry. Conducted over the past 18 months, it has involved more than 300 stakeholders from a range of disciplines, chemistry and beyond. We engaged the Copenhagen Institute for Future Studies to advise us on the megatrends transforming our world. We invited Korn Ferry International to educate us on what's happening in the global talent market. We analysed reports from the Organisation for Economic Cooperation and Development, the European Commission, the World Economic Forum and McKinsey. Based on those discussions a series of assumptions were made, which hundreds of experts from around the world were invited to challenge. For the list of all economic, demographic, geopolitical and technological assumptions please consult Annex 1 of the Mid-Century Vision.