Austria
---
Key facts
National contact
Fachverband der Chemischen Industrie Österreichs (FCIO)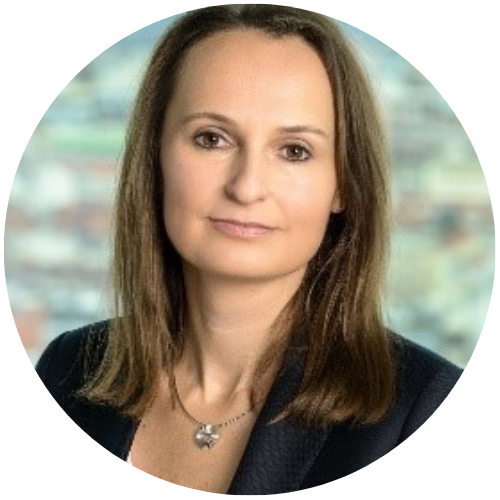 Sylvia Hofinger
Director General
hofinger@fcio.at

CHEMICAL INDUSTRY SNAPSHOT
Fourth largest industrial sector in Austria
Chemicals are the third largest industrial sector in Austria, generating about 12,7% of industrial added value. The industry provides about 11,1% of total Austrian industrial employment, 14,5% of R&D expenditure and 13,2% of industrial spending on environmental protection.
Massive cost increases for energy, raw materials and transport raise prices
The Austrian chemical industry was able to grow by about 20% to a production volume of 18.2 billion and thus exceed the pre-crisis level. However, it should be noted that for the most part, the growth was to a large extent driven by high prices.
A sector dominated by mid-sized companies
In 2021 the chemical sector comprised 236 companies employing 47 700 people which means a slight increase of 1%. Only 56 companies have more than 250 employees. Chemical companies are distributed across Austria, with key clusters in Upper Austria near Linz and in the Vienna region.
Investment has fluctuated but the trend is up
Plastics (raw materials and products) were more than 48,4 % of production by value in 2021, followed by chemicals (14,4%) and pharmaceuticals (12,2%). Agrochemicals were 3,2%. Over the last ten years, investment in the chemical industry has fluctuated widely. It peaked in 2019 but is far below this level (-37,4%) in 2021.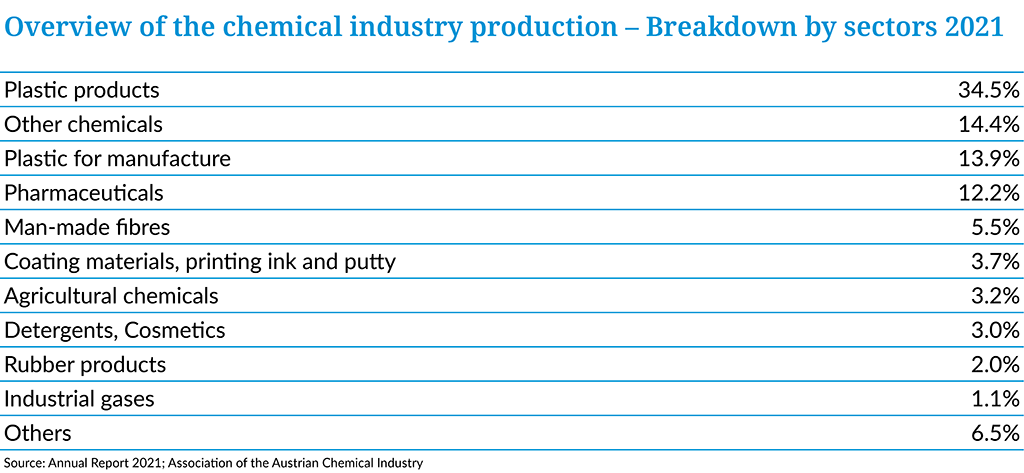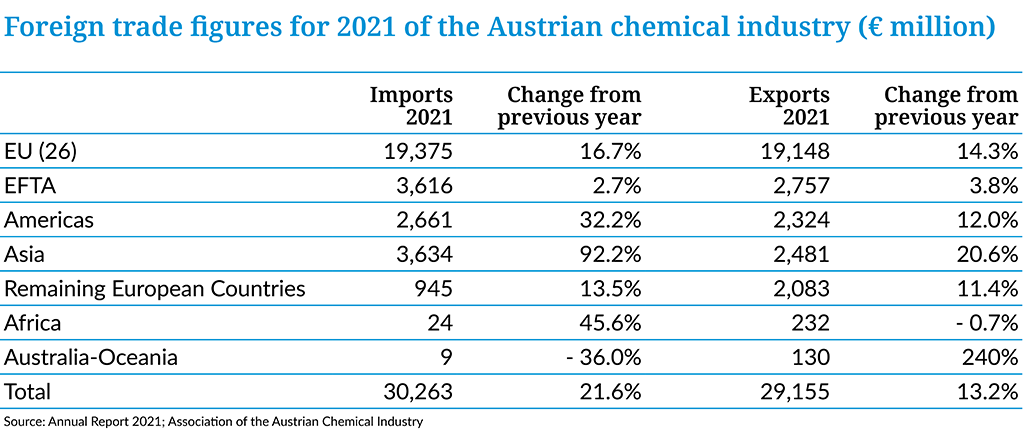 HOW ARE WE DOING?
Strengths
High level of innovation
High level of specialization
High level of networking among producers, suppliers and service providers
Social stability
Well-educated and trained labour force
Strategic location at the centre of Europe
Weaknesses
Increases in labour costs in recent years
Demographic trends
High energy costs
High administrative and regulatory burden
OUR CONTRIBUTION TO A COMPETITIVE EUROPE
The Government Programme is strongly oriented towards the European Green Deal and is even more ambitious in the field on climate policy with the target to become climate neutral by 2040. Hence, the Austrian chemical industry puts special emphasis on R&D and innovation in this area of high political interest.
The high level of innovation in the chemical industry is partly due to the very positive overall framework for R&D, especially due to its tax incentives for research and development. The research tax credit is a best practice model, and not only helps to fund human resources via investments but also buildings, research facilities and technologies. There is no maximum financial limit. The research tax credit in Austria applies to fourteen percent of the total investment volume.
In line with the ambitious climate neutrality target Austria's recovery and resilience plan devotes 59% of the plan's total allocation to measures that support climate objectives. This includes reforms to Austria's tax system that target reducing CO2 emissions through incentives for climate friendly technologies, preferential tax rates for low- or zero- emission products, and pricing of CO2 emissions. Other measures invest in energy efficiency, renewables, the decarbonisation of industry, biodiversity and circular economy – all of them of considerable relevance for the chemical industry.
Digital transition and life sciences are two more focus areas of the Government which should create additional opportunities for the sector and promote investments.
Take a "low-carbon industrial project journey" through Europe: discover our map
Low-carbon technologies projects: mapping investments and projects of the European chemical industry