Re-purposing textiles from start to finish
---
Buying vintage clothing is one way of giving clothes new life. But in the long run, clothing and textiles have a limited lifespan. At the end of their life-cycle, they are often thrown away. The chemical industry can offer solutions to extend the lifetime of garments and textiles and provide opportunities for recycling once they do reach the end of their life.
DuPont, in collaboration with partners along the value chain, provided the French firefighters with a solution enabling them to recycle and convert their used garments to fire-resistant wall insulation delivering the required performance and meeting strict European standards for building materials. Garments are collected, transported, sorted, shredded and compacted into a wall insulation material which can be recycled again and again, turning the nature of this solution from a linear to a circular one.
Another solution developed by DuPont is a built-in protection against odour, colour loss and fibre degradation. This process helps fabrics, like towels, sheets, carpets, and apparel, stay clean and smell fresh longer. By reducing the need to wash as often, water, detergent, and energy can be saved. Clothing and textiles also look and feel new for longer, lengthening textile life and reducing waste.
Associated SDG targets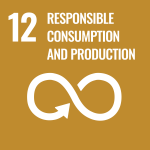 © Reserved copyrights UN SDGs