Making cotton dyeing more sustainable with one pretreatment solution
---
Did you know it can take up to 2650 litres of water to make a cotton shirt? That's enough water for one person to drink for 900 days. The amount of fresh water available is limited, but the demand keeps growing. That is why major textile brands are looking for more sustainable production methods that reduce water use and chemicals required in the dyeing process.
Dow has developed a pretreatment used in the cotton dyeing process that can help deliver up to 50% less water, 90% less chemicals and 40% less energy compared to a typical dyeing process. Emissions are also reduced by up to 63% in comparison.
How does Dow's cotton pretreatment work? This technology is a cationic pretreatment that helps dye better attract and bond to cotton by permanently changing the charge of the textile. This helps reduce the amount of dye and wash cycles required to get the colours brands want. It also enables dyeing in room temperature water, so less energy is used for heating.
With this award-winning technology, the industry can help address critical challenges like climate change, water pollution and water scarcity one step at a time.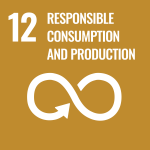 © Reserved copyrights UN SDGs