Clever use of polyurethane foam from the start
---
Imagine if you could maintain that comfortable lifestyle you are used to, all the while respecting the environment? Chemistry can help make this a reality. All it takes is to design products that are safe and sustainable from the start.
Dow, for instance, has been expanding on its 'family of polyols' to produce polyurethane foam in a way that helps downstream users meet environmental and safety standards. The foam itself is recyclable via Dow's recycling programme. This foam can be used in cars, furniture and buildings, among others.
Car interiors
The Dow MobilityScience Polyurethanes team has developed a new range of solutions which eliminates the use of catalysts when manufacturing polyurethane foam alongside other environmental benefits. This polyurethane foam can be used in car seats.
Furniture
Dow has also developed new polyols which have fire-retardant properties, reduce emissions and increase comfort levels in flexible foams for furniture, mattresses and seats. The technology to develop these foams reduces the amount of raw materials that need to be used. This means less storage tanks and less production lines are needed. The emission levels during production are low because non-halogenated flame retardants are used and catalysts are used sparingly.
Buildings
To help create future-ready buildings with near zero energy standards that are also comfortable and safe for its inhabitants, Dow can create insulated metal panels using polyurethane foam. This insulation technology helps designers improve thermal performance of buildings. Panels powered with this technology have fire resistant properties and are up to 20% thinner compared to conventional materials, which leads to lighter construction and more indoor space.
Associated SDG Targets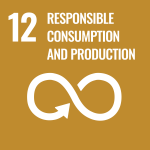 © Reserved copyrights UN SDGs