Bionaphta and recycled oil for a new sustainable certified product range
---
We live in a consumer society, meaning we have an urge to consume or possess goods and materials. Plenty of these goods come wrapped in plastics which we then dispose of. In Europe, about 30 million tonnes of plastic waste is collected every year. But still 85% of that ends up in landfill or is incinerated.
To fulfil a complete transition to a more sustainable and circular model, the chemical industry and the plastics value chain have committed to giving new value to plastics and plastic waste. One way of making plastics circular, is by using alternative feedstocks like organic waste, biomass or mixed plastic waste to generate sustainable raw materials for plastics.
Versalis, the chemical company of Eni, has been using alternative feedstocks like bionaphta and those derived from chemical recycling of mixed plastic waste to produce a range of raw materials for plastics: monomers, intermediates, polymers and elastomers are just a few examples.
The bionaphta, is obtained from vegetable oils, exhausted food oils or other types of organic waste. The chemical recycling of mixed plastic waste leads to "recycled oil" as raw material, a pyrolysis oil. Using these feedstocks to produce new plastics, results in products that do not differ in chemical composition and performance from those made from fossil-based raw materials.
Why is this beneficial?
Plastic waste that is incinerated is not only a source of CO2 emissions but is also a waste of valuable resources. Using alternative bio-based feedstocks is an important step towards going climate neutral and placing circular products onto the market. Furthermore, it addresses the plastic waste issue and helps reduce the use of fossil raw materials.
The new sustainable certified product range Versalis has been producing with bionaphta and recycled oil received the ISCC Plus certification. This means that the entire value chain was involved to guarantee full traceability of the sustainability claim from feedstock to end-product.
Associated SDG targets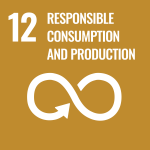 © Reserved copyrights UN SDGs